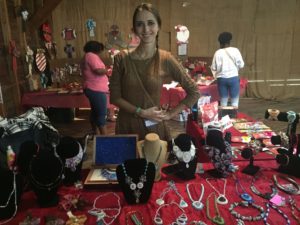 Join us for our annual Christmas in the Cross Arts and Crafts Fare!
DECEMBER 15th
See over 40 local vendors sharing their arts, crafts, antiques, and more.
Admission is $1.
The show runs from 9 am – 3 pm at the Okefenokee Heritage Center 1460 N. Augusta Ave Waycross, GA 31503. Support local growers, sellers, and artists with individual one of a kind gifts found only in Waycross.
For more information email [email protected] or call 912-285-4260.

Pictured:  Iryna Combs, Ludowici, shows some of her handmade jewelry at the Christmas in the Cross show.