Welcome to the
OKEFENOKEE Heritage Center
Join us & explore our local history, family orientated displays, exhibits & community events
See what it was like here years ago, & experience our heritage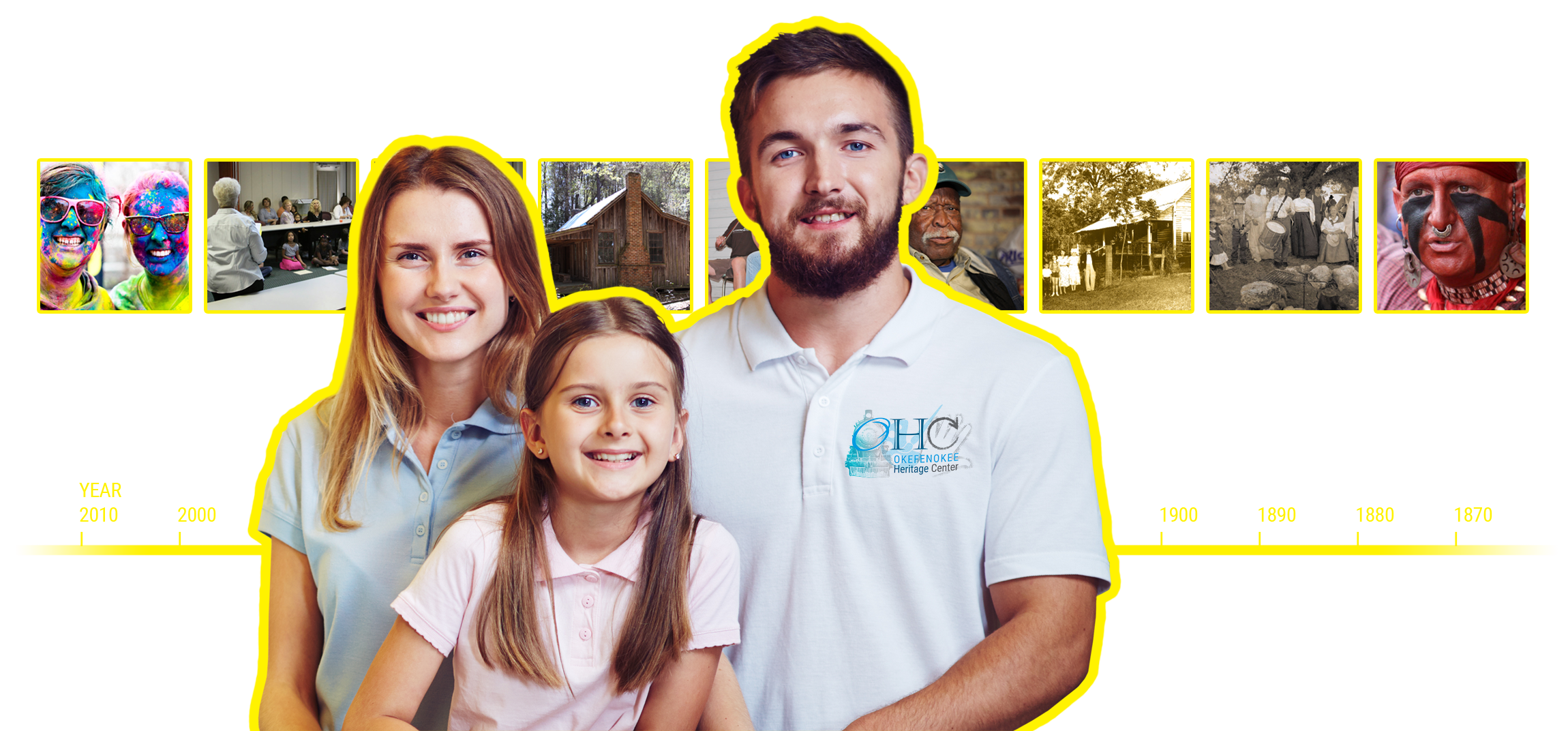 We have something of interest
for all the family
Proudly serving…
Atkinson, Bacon, Brantley, Charlton, Clinch, Coffee, Pierce & Ware Counties.
The Okefenokee Heritage Center is a regional art and history museum located amongst twenty acres of beautiful pine woodlands. Over the past thirty years, it has served the surrounding Okefenokee area by promoting an appreciation of the arts and an increased understanding of this region's history. with its exhibits, programs, and activities.
Native American Exhibit
Our Native American exhibit outlines the succession of cultures that have inhabited the Okefenokee region.

The museum serves the surrounding Okefenokee area, which includes 8 counties, We celebrate the many cultures that make up this diverse area through our exhibits and guilds. The OHC houses exhibits on the history and development of the region.
The OHC has always got something happening, from arts guilds, events to Local Fare Markets and displays like this one of a Native American Hoop Dance.
Black Heritage Exhibit
Our "From These Roots" exhibit documents the rich history of contributions of African-Americans to the region.

These are just a few of our displays & exhibits here at the Okefenokee Heritage Center. One of our most popular is the Old Nine exhibit. Other exhibits include:
Founder's Hall
Sacred Harp
Waycross Journal Herald
Fine Art
Gram Parsons
Why not make plans and visit us, we have loads to do both inside and out, plus the weather looks great!
Hilliard House
The 1830s Hilliard House was occupied at one time by General Thomas Hilliard, a famous leader in the Indian Wars of the early 19th century.

We always have something going on
While you're at our website, please visit these for more local info
Okefenokee Heritage Center
1460 N. Augusta Avenue, Waycross, GA 31503
t: 912 285 4260   e: [email protected]
Admission:
Adults: $5 | children under 5's are FREE
Seniors, Veterans & children under 12: $3
Center Hours:
Tuesday - Friday 9:00am - 4:00pm
Saturday 9:00am - 2:00pm
Closed: Sunday & Monday
Tues through Fri after 4:00pm please call for an appointment and our staff would be happy to provide you a private tour.
Sunday through Monday Exhibits are Closed - Throughout the year.